ABOUT THE FACTORY
The Factory began its life as a shoe manufacturing plant, thereby continuing a long tradition of shoemaking excellence in the town of Perth. Constructed for the Brown Shoe Company (Canada) it was considered the most modern facility of it's kind when it opened it's doors in November 1960. For over forty years the Factory provided employment to hundreds of local people who produced countless numbers of shoes (most notably well known Buster Brown children's shoes) which were sold at home and abroad. During this time the Brown Shoe Company developed strong ties to the community through its commitment to corporate and social responsibility. So it was with great sadness that The Factory closed its doors in 2003 and while efforts were made to revive shoe manufacturing at this location, it was not to be.
From then to now, it was developed into the business park which houses a variety of professionals, commercial enterprises, and government-funded organizations.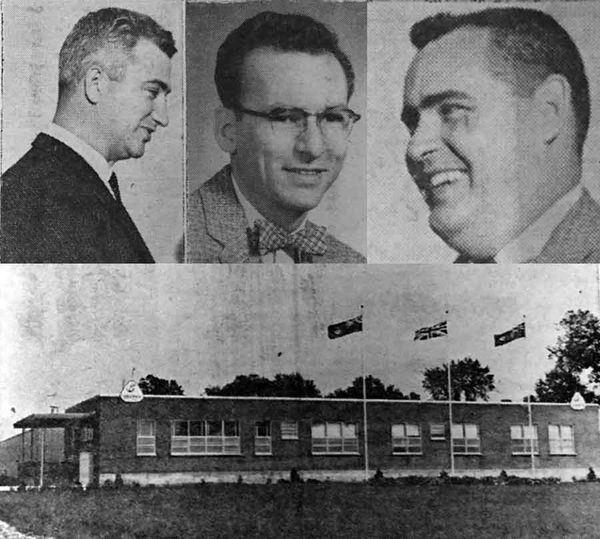 THE BROWN SHOE COMPANY 1960 PHOTO: Left to right; Mr. J. Baugher, Director Manufacturing, Howard Scott, General Superintendent, Orval James, Plant Superintendent and the completed plant November 1st 1960. The Perth Shoe Company was acquired by the Brown Shoe Company in 1960 and after building a new manufacturing facility at another location at Sunset Boulevard and Rogers Road.
The Brown Shoe Company continued to utilized the old building on Sherbrooke Street until 1982 as a storage centre to accommodate the growing demands of the company. The building has since been renovated to accommodate various businesses. The Brown Shoe Company Plant situated on Sunset Boulevard, manufacturing Naturalizer, Air Step, Dr. Locke, Scholls and Perth Welts was competed on November 1st 1960. The Company employed 360 people in the Town of Perth, with a payroll of over a million dollars per year. The Plant, one of the most modern in North America, is of similar design to other factories in the Brown Shoe family. A second plant was opened in Alexandria in 1959, where the Buster Brown, Miss America and Pedwin shoes are manufactured. In the Perth plant, 19,200 shoes were in process each day of the week. In the U.S. at the time there were fifty planes, including tanneries and other factories manufacturing the various component parts.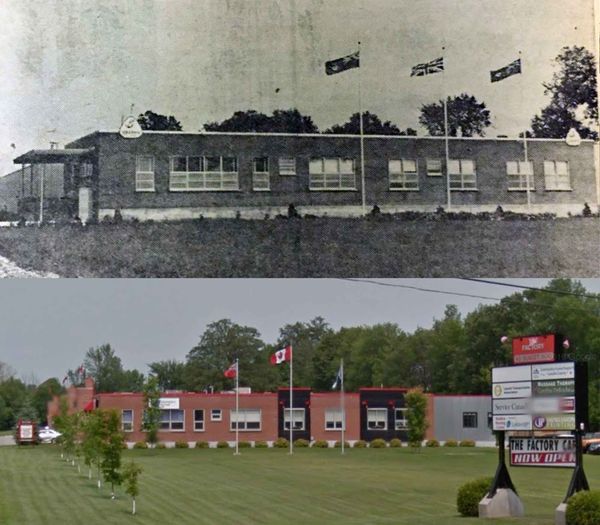 THEN&NOW
The Brown Shoe Company Plant, situated on Sunset Boulevard, was completed on November 1st 1960.
© Copyright RGSS Ventures Inc.