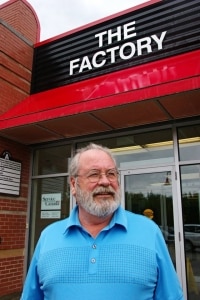 As Published By:The Perth & District Chamber of Commerce

Ask Perth entrepreneur Bill Beacham if he has the Midas touch when it comes to business development and you would probably get a wry smile and a convincing "no."
However, few could deny the success Beacham and his partners in Leo Adams Investments have had in redeveloping 'The Factory' – a 50,000 sq. ft. modern business park on Sunset Boulevard – into one of the premier business locations in the area.
It was just a few years ago that Beacham, the driving force behind the eventual business park model plan, came to Perth as part of a group involved in equity financing for technology companies.
"That's certainly how we landed in Perth," Beacham said. "We had three companies in smaller offices here in Perth and one of them needed a larger space so we thought we would look around."
Beacham said he was told there could be opportunities in the Brown Shoe Factory on Rogers Road but the manager at that location steered him toward the company's Sunset Boulevard property. The rest, as they say, is history.
Today, the park which features a full 12 acres of possible future expansion land, is about 70 per cent leased with about 12,000 square feet of rental space still available.
Some of the tenants Beacham's group have signed include a land planner, a massage therapist, and an architect in the professional services area of the building. Other tenants include Government of Canada; Algonquin College Community Employment Services and several not-for-profit businesses such as Community Home Support Lanark County.
Spaces are uniquely tailored to the specific needs of each client and all remodelling and renovation is completed by Beacham's in-house construction team.
"We've done something a little different," Beacham said. "When a fit up or renovation is required we have our own crew and we act as the general contractor and bill those costs back to the client at our cost – there is no element of profit. We have taken this approach in the interest of getting good long-term tenants."
And what does the future hold for Beacham and 'The Factory'?
"We want to get this building leased up which is an ongoing business in itself," Beacham said. "If and when commercial development in Perth catches up to us we would definitely look at other free-standing buildings and may even take a look at residential/commercial development sometime in the future.
For more information on leasing opportunities at 'The Factory' contact Bill Beacham at 613-326-0190 or email info@lai-inc.com
This feature story is the first in an ongoing series of Chamber member focus articles that will appear weekly on our website and through our social media channels. So, stay tuned for much more.